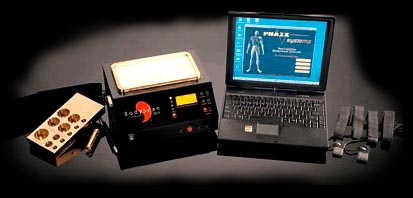 The Bodyscan, better known as Phazx Bodyscan2010, is having quite an impact on people, including medical doctors, who were highly skeptical.



It has clearly proven its value as the most accurate biofeedback device available today, the Bodyscan2010 is now used by more and more allopathic and naturopathic doctors in the U.S. who operate full-time Bodyscans.

The Bodyscan measures specific sensitivities to over 16,000 substances, toxins, and more in the human body. Tells you what is doing and where, and by how much. It's fair to describe the Bodyscan2010 as "next generation" biofeedback equipment. Made by Phazx, up to 72 substances per second are "sought out" by this incredibly accurate device. Many insurance companies here in America accept the Bodyscan as a biofeedback device with value, which explains their willingness to reimburse patients for the standard $250 charged at most Bodyscan offices.

Ironically humorous is the fact that the Bodyscan does not actually diagnose, heal, nor even treat diseases. It simply provides the naturopathic or allopathic practitioner with information that goes a long, long way toward helping you to heal yourself of a huge variety of diseases and disorders ... either with or without the dangerous, often lethal chemicals we call "pharmaceutical drugs." When we know precisely what is out of balance, whether it's an organ, or the lymphatic system, or sensitivity to a particular chemical, we're in a far better position to use natural remedies to correct things -- even before that sensitivity becomes a full-blown problem.

Dr. David Cohen, basing his naturopathic practice in Brooklyn NY, has patients who come to him from around the world.

With N.D., PhD., M.H., C.N.C., and a ready charming wit, Dr. Cohen should have been rich long ago, yet appears to invest the bulk of his time either studying to become even more proficient, or else trying to get everyone around him to make use of the information provided by the Bodyscan2010. It helps to see someone who personally uses what he professes to be most useful. That's not too common.

Treating the low payers and the no-payers with the same inoffensive bossiness with which he advises the wealthier of his patients, there's little repudiation of objectivity in noting that David Israel Cohen is more interested in personally spreading this advanced technology to people all across America than he is in gathering material wealth.
Conditions Not Responding to Conventional Drugs/Surgery
When a seriously ill patient is told by surgeons and other specialists that allopathic medicine has done as much as it can, that there are no other drugs or surgery that would be useful, it's the rare person who doesn't turn to naturopathy, which is still the only branch of medicine that requires no malpractice insurance for obvious reasons.

When the best techniques used by the richest people throughout human history are still being used by the wealthiest people of this highly advanced generation, it's important to take notice. Closer examination shows the frequency of combining, and the benefits of combining, history's best techniques with the most advanced technology constantly available. "... constantly available" entails ongoing research and continuing development.

The ability to use technology to gain instantly useful information such as the Bodyscan provides, added to the longest-lasting methods and techniques of those who live younger longer, adds up to individual people making much better, more informed decisions about how long and how well they live.

With the study and research credentials to match his phenomenal memory, his journey of thirty years' duration studying and practicing, researching and applying, Dr. David Cohen might well be described as America's most effective naturopath. If not, he's certainly convinced that with better, more specific information, patients who aren't getting relief from drugs and surgery need to take a look at the powerful shortcuts that the rich and famous have been using for about fifty-five centuries

In the weeks spent in his offices gathering the necessary information to build these health-oriented web sites for you,
it became obvious that every patient, from housewives and students to both male and female practicing physicians, to people who came to America expressly to be seen by this incredible naturopathic doctor, not a one among them left his office unhappy.

Even Dr. Yelena Shvarts, (shown just below) a holistic medical doctor practicing in Brooklyn, NY., who entered the office in significant pain, with a limp, virtually skipped out of the office an hour later with the relief apparent on her face and in her body movements.